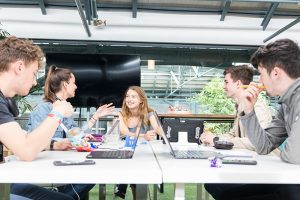 New University of Limerick course, backed by global tech leaders, teams up with Patch summer accelerator to launch four week competition. TECS seeks to identify Ireland's most promising youth and support them in becoming leaders of the next generation. €5,000 in prizes available, judges include Bobby Healy & BT Young Scientist winner Diana Bura.
The Immersive Software Engineering (ISE) programme at UL's Computer Science and Information Systems department, in partnership with Patch, announced today the opening of applications for TECS, a nationwide search for Ireland's leading young technologists, entrepreneurs, creators and scientists.
To participate, students will submit a project that they are working on. For 4 weeks, they will provide a weekly progress update and those who make the most impressive progress over the course of the competition will be selected as winners. Over €5,000 in prize money is available for students and their schools.
The initiative is a product of ISE and Patch, both of which have a shared mission to provide world-class supports for up-and-coming Irish innovators. ISE is a revolutionary new software engineering degree, backed by global tech leaders including Stripe and Intercom. Patch, founded in 2018, is a non-profit summer programme where selected young technologists develop their ideas together. 4 BT Young Scientist winners have taken part to date, and it is supported by some of Ireland's most successful entrepreneurs.
Those judging submissions include Bobby Healy, founder of Manna Aero, and Diana Bura, BT Young Scientist 2015 Overall Winner. Selected participants will attend an invite-only awards event at UL and receive special mentoring, along with a trip to Dogpatch Labs in Dublin. The overall winner will receive €2,000, and their school will receive €1,000. Additional prizes will also be awarded. It is hoped that TECS winners use the programme as a springboard for future work and further achievements.
"Whether you're interested in making an idea happen, or want to pursue an interest in science, tech or business, I'd wholeheartedly recommend taking part in TECS. Working on a project of your own will teach you so much, and there are some great prizes available too. If I was allowed to take part, I would probably try and programme a drone that delivered chips from my local takeaway." Bobby Healy, founder of Manna Aero & TECS judge.
Secondary school students from Ireland and Northern Ireland are strongly encouraged to take part in TECS. Apply by November 3rd at jointecs.org.